Brown bear watching & wildlife tours on the coast of Katmai National Park, Alaska
---
M/V WATERS / BEARS / THE IDEA
John Rogers, owner of M/V Waters and Katmai Coastal Bear Tours, has explored Katmai's coast every summer since 1989.


As one of the first commercial operators along the Katmai Coast, the National Park Service says the boat camp is ideal since it doesn't scar the beaches. "They're very sensitive to park concerns as well as the people they're responsible for.", Steve Hurd, chief ranger for Katmai National Park, says of the Waters. "Quite frankly, that's the type of operation we need to encourage."

The Katmai Coast is an unlikely destination for a tourist boat. Stormy and desolate, the coastline was abandoned by its last Native inhabitants 90 years ago during the immense Katmai eruption, signs of which are still visible in gray ash on high ridges and small pumice stones floating in protected bays. When the seas are rough, there are few protected bays offering refuge.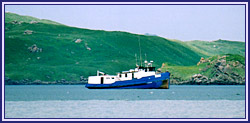 Skipper Michael Parks, and first mate Lydia Rabottini, along with owner John Rogers, have been running the Waters for years along the coast of Katmai. Built for the U.S. Army 60 years ago, the Waters is a heavyset 70 foot tugboat with thick wooden beams built into its rising lines. The vessel was purchased by John Rogers during the Exxon oil spill and pressed into the charter business, carrying park service employees along the Katmai Coast.


With the clean-up winding down, Homer bush pilot Bill DeCreeft, owner of Kachemak Air Service, stated he could easily fill the Waters with photographers. He'd been taking bear watchers to McNeil River for two decades. The Idea of a "Bear Boat" began. They decided to return the Waters to Shelikof Strait and the coast of Katmai National Park, this time to show off the bears and other splendors. It's one of the most remarkable coastlines in any national park and effects everyone who spends time there. Bill DeCreeft is an example, he's become a bear admirer himself and made a statement about it by no longer flying bear hunters.

Increased bear viewing opportunities will lead to greater protection from hunting and habitat loss. The more people who go to places like this, the more friends bears will have.

John spends summers exploring the coast and bears of Katmai with individuals seeking a unique Alaska adventure. In a bear's environment you must give in to the fact that only by the decisions that you make can you help to create a safe bear encounter. A bear's life thrives on instinct, gestures and intent. Along with his enhanced senses of smell and hearing, a bear is constantly making decisions that are best for him. Your choices have to be best for the bears also. Conservation can come by adopting true insights towards nature, and help to dispel horrifying myths that have been tagged to animals such as wolves and bears. Simply, conservation can be spread by word-of-mouth from old to young.
[ The Last Best Place ] [ The "Waters", the Bears, the Idea ] [ Ursus arctos, Brown Bear, Grizzly Bear ] [ Services for Film Makers ]
---
[ Home ] [ Site Map ] [ Tour Details ] [ Booking Info ] [ Photos ]
Site created & maintained by Net Alaska Web Services Homer, Alaska
© Katmai coastal Tours and Net Alaska Web Services, Homer, AK